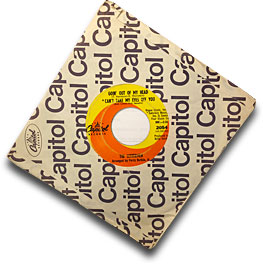 I think I've finally come to the end of my vinyl ripping project, as I digitized the final 7" 45 rpm record in my collection. I added about eighty songs to iTunes (in addition to the 850 or so that were on LPs). Most of the 7-inchers were from the 1960s and 1980s; I have no recollection about the fate of the apparently-lost decade of the Seventies.
About half of these records had custom jackets, instead of the generic blank paper or record studio jackets. I scanned the custom jackets and added them as album art to the songs in iTunes and made a sort of collage, shown below. You can click on any specific cover to see a larger version, and navigate through each cover via the pop-up controls..
I'll readily admit to some questionable musical choices (I'm looking at you,
Samatha Fox
, you saucy minx), and I'll also confess that I think some of these records never got played more than once or twice (
Max Headroom
just didn't stand up to repeated listenings). But some of these records are semi-classics (such as the Disneyland-issued of
It's A Small World
sung in four languages by an unnamed children's choir and selling for 29¢, the Canadian version of
Rock Me Amadeus
by the non-Canadian
Falco
who died in a car wreck at age 40, and the all-star USA for Africa group's
We Are The World
relief fundraiser recording, said group featuring the likes of Dan Akroyd, Waylon Jennings, and Paul Simon).
I have no particular sentimental attachment to these 45s, now that I've digitized them, so I'm more than happy to give them to a new home that might appreciate them either as music or history or cultural artifact or substitute clay pigeons for trap shooting. So, here's the deal. I've made a musical collage of 3-second snippets from ten of these records (some are NOT included in the record sleeve collage above), and uploaded that collage in mp3 format. You can listen to it below. The first person* to correctly identify all ten songs via the comments section on this post (or in the comments to the Facebook post leading to this article) will win all ten records. What a deal, huh?
I intentionally didn't make the collage too difficult (e.g. I omitted songs by
John Wesley Ryles
and Don & The Goodtimers [who aren't who you and Wikipedia might think], as well as all of the B-sides), but it will require some musical knowledge spanning a few decades. I think all of the songs landed in the top 20 and many of them hit #1. Good luck!
Update (3/6/19): We have a winner! Fellow blogger Jay Solo correctly identified all ten songs over on Facebook. I've listed them at the bottom of this post in case you still want to give it a try.
[Note: MLB thinks that I need to add a disclaimer that the winner gets the records...whether they want them or not. I suggested that the winner gets 10 records; second place gets 20. Sheesh. My music gets no respect.]
*The date and time stamps on the comments will absolutely rule. Ab-so-lutely. In the event of a tie, the person who sends me the most money wins. Oh, wait...that's probably illegal. Never mind. The person who flatters me the most wins the records, but loses their soul. Probably.
.
.
.
.
Here are the songs in the order of appearance:
Thank The Lord For The Night Time [1969] - Neil Diamond
A Little Bit Me, A Little Bit You [1967] - The Monkees
Polk Salad Annie [1969] - Tony Joe White
Secret Agent Man [1966] - Johnny Rivers
Addicted To Love [1985] - Robert Palmer
Don't Sleep In The Subway [1967] - Petula Clark
Money For Nothing [1985] - Dire Straits
Born To Be Wild [1968] - Steppenwolf
Mirage [1967] - Tommy James & The Shondells
Hello, I Love You [1968] - The Doors