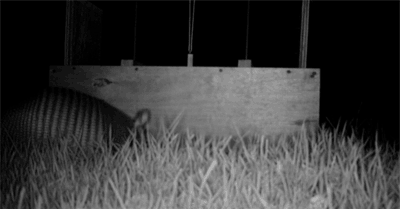 It's been awhile since we've published a Random Thursday article [
Ed--After reviewing this, it's obvious that it hasn't been long enough.
]
Trapping Fails
Following a very quiet winter and early spring in which I actually contemplated the notion that I had trapped out the nuisance wildlife population in our immediate neighborhood. Lately, however, our game camera has captured images of cavorting raccoons and armadillos, and while I myself have been known to cavort, I draw the line at the divots those animals have begun to inflict upon our lawn. So, out came the traps.
I did catch one raccoon last week, but as the images above and below demonstrate, my attempts to corral the armadillo have been futile. The gif at the top of this page shows the 'dillo blithely traipsing by the open trap. They follow the same path pretty much every night, but I managed to miss that path by about a foot.
The following gif demonstrates a more frustrating situation, wherein the armadillo actually enters and activates the trap, but one door drops only half way, and the animal makes a u-turn and walks out the same way it walked in. As it turns out, the trap wasn't completely level, so one of the doors was caught in a bind.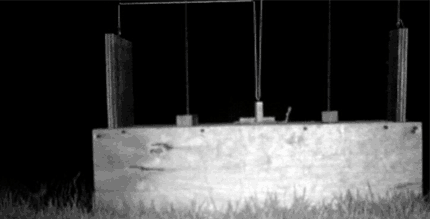 Update (05/29/19): And the fails just keep coming. I trapped a raccoon overnight but waited until after breakfast to haul it away. That gave it enough time to bang into the trapdoor and escape. Does it have enough discipline to avoid the temptation of more sardines tonight? We shall see.
Texas Music
MLB and I spent last weekend in Fredericksburg (that's Texas, y'all, not Virginia) at the annual Crawfish Festival (which has been the subject of a
previous Gazette post
), and we spent several hot and humid hours over two days dancing to a variety of music, mostly country but also zydeco and rock & roll. On Saturday evening, we cruised over to
Hondo's
for stacked enchiladas, and stuck around for some dancing on their patio. It was a fun time, made more so by the musical antics of the
Mitch Jacobs Band
.
I suspect that most of margarita-fueled crowd at Hondo's didn't even notice that the lead singer inserted an entire verse of The Who's
Pinball Wizard
into the band's rendition of
Folsom Prison Blues
...but I certainly did. Can't quite get a handle on it? Try these lyrics with
this tune
:
He ain't got no distractions
Can't hear those buzzers and bells
Don't see lights a flashin'
Plays by sense of smell
Always gets a replay
Never seen him fall
That deaf dumb and blind kid
Sure plays a mean pin ball
It works, right? The only logical question might be "why?" but there's no logic in Texas music.
Later on, the band performed the Waylon Jennings classic, Luckenbach, Texas, and the singer took the liberty of impersonating Willie Nelson, Julio Iglesias, and -- wait for it -- Bob Dylan. Again, I don't think he got the crowd reaction his skillful performance deserved, but I was impressed.
The Dogs of John Wick
I took my truck in this afternoon for scheduled maintenance and [the always ridiculous] state inspection. Since the garage is within walking distance of the movie theater in Marble Falls, I suggested to MLB that she meet me there for the matinee of
John Wick: Chapter 3 - Parabellum
. [As an aside, the use of both a colon AND a hyphen in a movie title is incontrovertible evidence of the producer's delusions of grandeur.]
If you're familiar with the John Wick franchise, you know that the main character has an affinity for dogs, and there's a canine sub-plot in each installment. JW:C3-P is no different, except there are TWO dog plots. Without spoiling anything, MLB and I both felt that some German Shepherds absolutely stole the show, without even being main characters. I suspect at least some of the dogs' performance was CGI-enhanced, but it was seamless with the actual animal acting which was nothing short of breathtaking. I wouldn't bother going to see the movie if you're only in it for the dog action -- the overall level of violence makes the first two seem like Mary Poppins spin-offs -- but if you know what you're getting into, the Shepherds elevate the action considerably.