For the past few weeks, we've listened to the conversations (and monologues) of crows, originating from somewhere to the southwest of our house. They don't sound close, but their calls can carry long distances. And every now and then we could hear something crow-like, almost like the pleading of a young bird. But I'm far from being an expert in the ways of crows so I could very well be mistaken about that.
Anyway, as Debbie (previously known as MLB, but I now have her permission to reveal her identity) and I were heading out on a run yesterday morning, I glanced over at the electrical transmission towers that are
just outside our neighborhood
and spotted what looked to be a nest near the top of one of them. I told her that we should go investigate when we have a chance.
We did just that around in the early afternoon, donning our snake boots in preparation for a hike through the tall vegetation and rocky terrain surrounding the towers. We drove to a cul-de-sac about a hundred yards from the towers, parked the truck, and began making our way across the landscape. I brought my camera (of course) with an 80-250 zoom lens, and as usual, found a lot of interesting things to photograph. Let's explore, shall we?
The beginning of the hike was a pretty one, with an impressive array of spring wildflowers covering the ground.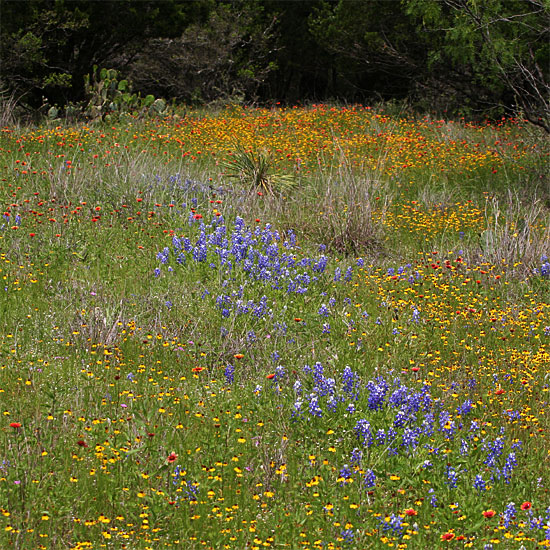 We could see the tower in question just over the treeline, and it was obvious that there was a large nest near the top of the tower.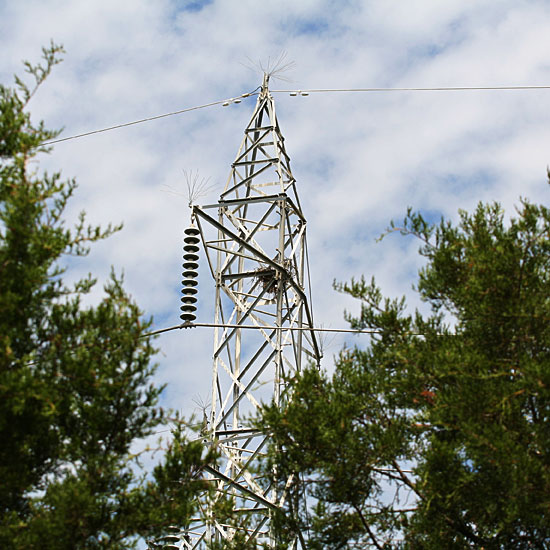 We crossed the wildflower-covered open area and walked through a brushier part of the hill, and through an opening in the trees we caught a glimpse of an impressive vista, including a sliver of Lake LBJ about two miles away, as the crow flies (sorry).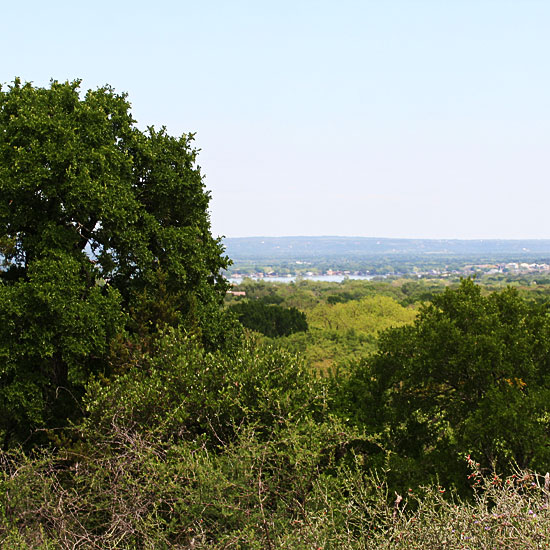 The nest seems to cling precariously to the crossbeams of the tower. Notice the cluster of wires installed on top of the insulators to keep birds from perching there; I have no idea why that's important, but they obviously have no effect on nest building.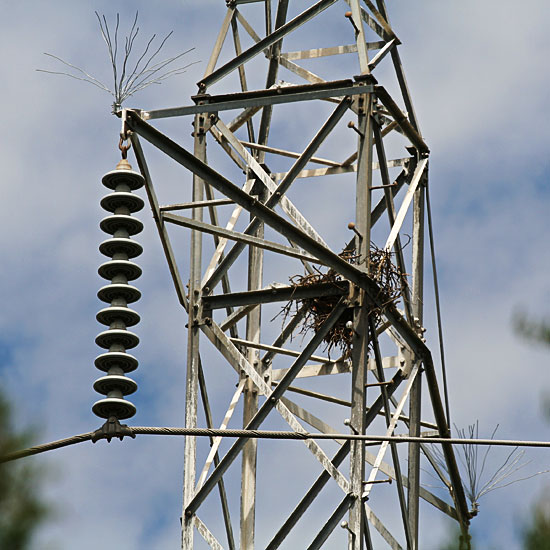 There are actually a pair of identical towers, side-by-side, and a crow was keeping watch on the other tower.
A second crow had been flying back and forth, and eventually it landed and appeared to consult with the first one. If its plumage looks to be in disarray in the photo below, that's because it was. More puzzling behavior...was it shaking its feathers to communicate something to the other bird as they touched beaks?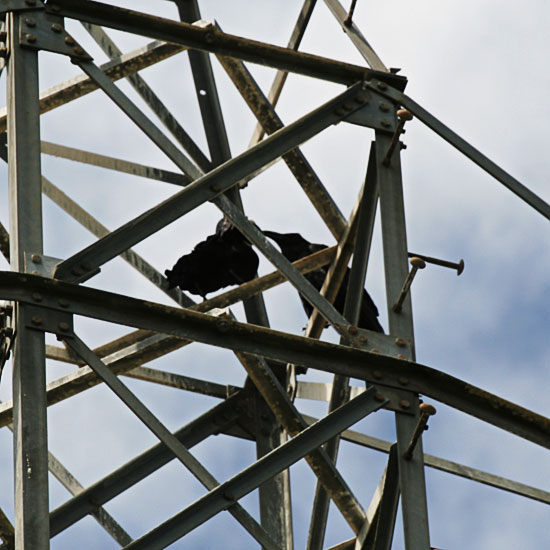 We watched the birds for a few minutes, then decided to do a little more exploration. Here's Debbie posing in front of a granite boulder she tried to convince me to take home.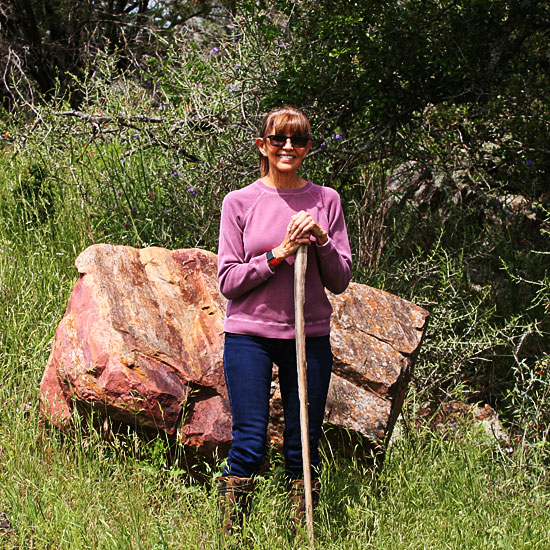 These purple flowers were quite plentiful, and we'd never seen them elsewhere in the neighborhood. At first, we (and by "we" I mean "she," because I know nothing about flowers) thought they were wild irises, but a little googling identified them as
giant spiderworts
.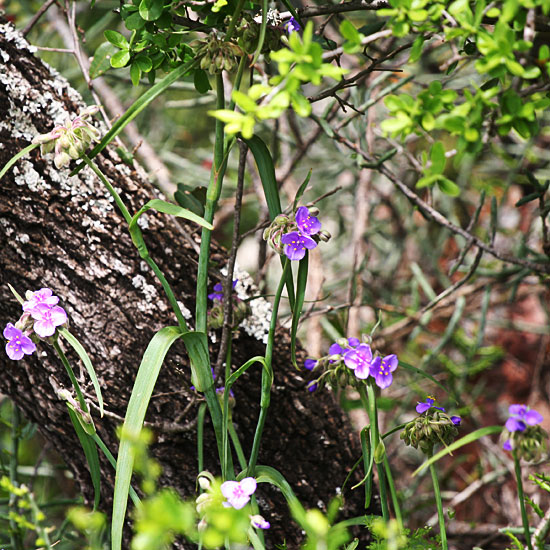 Cacti is plentiful, especially amongst the rocky outcroppings, and some of them are beginning to bloom.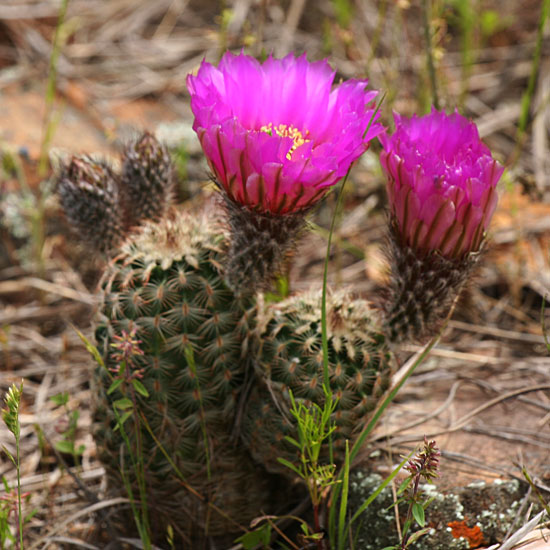 The most interesting find of the day was when Debbie pointed out the "foam" she discovered at the base of a few plants. I had never noticed it, but once we started looking closer, it was fairly common.
It was another mystery, but one quickly solved when she googled it and pronounced it to be the work of the
spittlebug
. These are tiny insects whose nymphs suck the sap from plants and then pump bubbles into the liquid to produce the foam (some oldtimers refer to it as "frog spit"), which surrounds them as protection from predators and also keeps them from drying out. The term "spittle" is misleading, however, considering the foam activation emanates from the other end, to be delicate about the matter.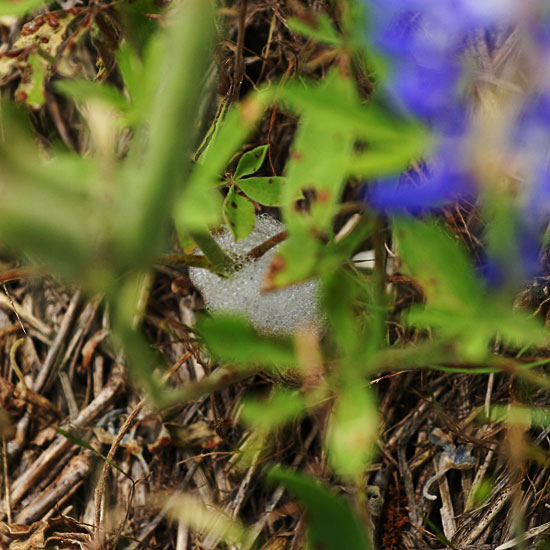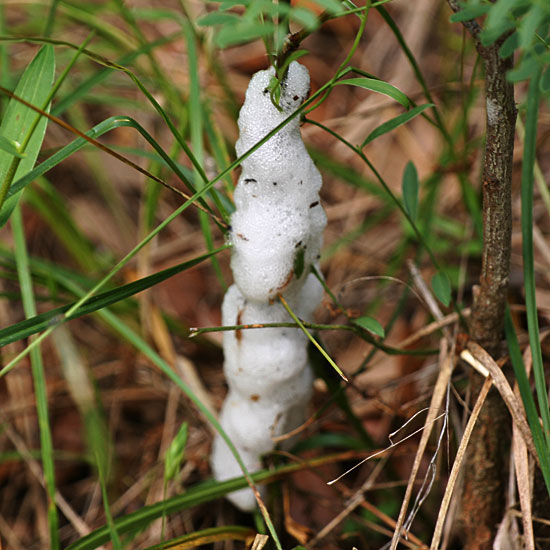 Spittlebugs are not actually harmful to the plants they reside on, although in large enough quantities they can cause them to droop a bit. They are unusual enough to warrant a rather
long investigatory article
from The Gray Lady itself...which would have been the last place I'd have thought to look for an exposé on spittlebugs.
As an aside, this is not the first time we've discovered strange secretions from the plant life in our neighborhood. Alert Gazette readers will no doubt recall this post about ice flowers.
We didn't know enough about the phenomenon to investigate further on our hike, but when we returned home we went looking for the foam in the vacant lot next door. It wasn't nearly as plentiful, but we did find a couple of occurrences, and I violated the personal space of one of the inhabitants to see what it looked like. You can't tell a lot from the following photo, but it does confirm that the foam has a tenant.
Spittlebugs weren't the only attractive critters we came across after returning home. Here's a pretty little damselfly. (Confused about the difference between a damselfly and a dragonfly?
This will help
.)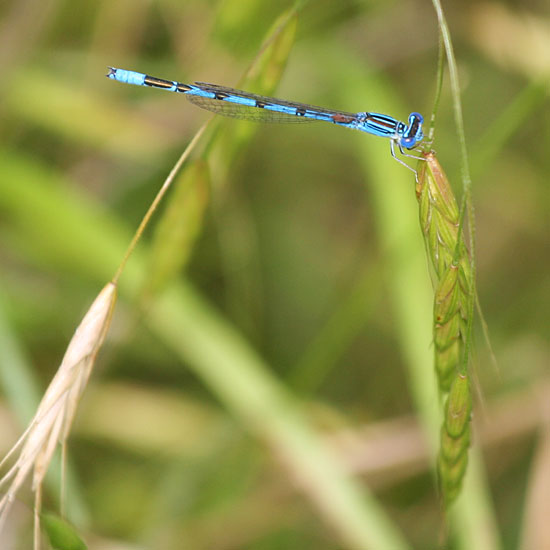 And, finally, this caterpillar was hiding in the undergrowth. The spikes on its back might remind one of the wiry clusters on top of the electrical towers we visited earlier...and I suspect they serve the same purpose: to dissuade birds from further investigation.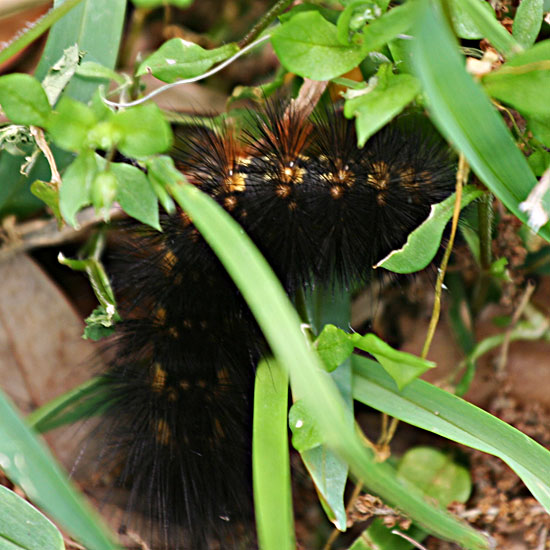 It was a fun and even educational way to spend a quarantined afternoon. Our only disappointment (well, mine, anyway) was that we didn't encounter any snakes (as far as we know) so our protective boots are still untested. Maybe next time.