Warning: Some extreme band geekiness layeth ahead.
Alert Gazette readers will recall that part of my shelter-in-place regimen is
re-learning to play the clarinet
after a longer-than-many-of-you-have-been-alive layoff. I'm semi-happy to report that I'm getting semi-better due to my semi-disciplined approach to practicing semi-regularly.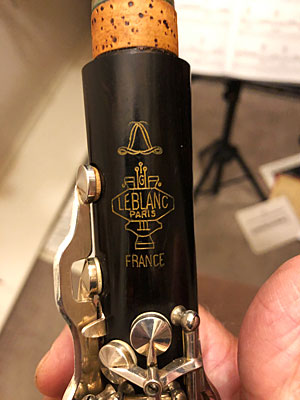 Despite the optimism expressed in that post, I was not at all pleased with my progress at the beginning. Even though the muscle memory of which notes required which finger placements came back quickly enough, the actual sound I produced was far from music to my ears.
I thought about blaming myself, but it's much easier to blame the equipment, so I embarked upon an upgrade program, focusing on the mouthpiece.
The mouthpiece assembly consists of three parts: the mouthpiece itself, the reed, and the ligature. All of those parts dated back to my high school days, meaning they were just newer than when they were carved out of stone by a technician/band director named Grog.
After doing a bit of research, I went with a Vandoren
M13 Lyre
mouthpiece, Vandoren
56 rue Lepic
(3.5 hardness) reeds, and a Vandoren
Optimum
ligature.
The trend is obvious, right? I don't know if Vandoren is the premier manufacturer of accessories for the clarinet (and the saxophone, as well), but it's certainly well regarded. Plus, I figure that building a system out of components made by the same company just makes sense. After all, you wouldn't put a Corvette engine in a Ram pickup outfitted with a Porsche suspension (although, now that I think about it, that would be pretty cool).
Anyway, the new mouthpiece assembly proved to be a revelation, once I broke in a couple of reeds. I'm starting to ever so slightly sound like I might be better than an average junior high player.
Along the way, I've realized that while I spent hundreds, if not thousands of hours playing the clarinet, I was never a student of the instrument...just a practitioner. That's neither good or bad, I think; it was just a reflection of the fact that for me, playing a clarinet was a hobby, not a passion.
That hasn't changed, but with more time on my hands, and reaching a point in my life where I'm perhaps a bit more sentimental about the past, I've delved into additional aspects of the instrument.
For example, I never really knew much of the background behind the clarinet that I've had since high school. It was made by a company called LeBlanc whose roots date back to 1750, although the company name came into being shortly after World War 1. The model is called "LL," unimaginatively referred to as "Double L" and it was considered to be an instrument suitable for professionals as well as students. The tri-cornered hat emblem shown in the photo above is unique to the LL.
As a testament to Leblanc's bona fides, Pete Fountain played its clarinets; according to one source, he even played an LL, albeit one customized to meet his specifications, with gold plating and six rings (the standard model comes with five, and I had to
look it up
to see why one would need/want six. I'm still not sure, even after reading the explanation. But, then, I'm not worthy to pull on Pete Fountain's spit rag.).
Mine is stamped with the serial number 22682, which,
according to this website
(are you surprised there's a website dedicated to clarinet serial numbers?), means that it was manufactured in 1965. It is made of
grenadilla wood, aka African blackwood
, a significant step-up from the plastic beginner model I started with in junior high. My recollection is that my parents purchased it for me at some point during high school, at the suggestion of my band director who discerned that I might have the talent to justify a better instrument. Looking back, I suspect that the investment in the new instrument represented a significant financial sacrifice for them, but I was too clueless as a teenager to realize it, much less acknowledge it.
Over the past month or so, I've done more reading about clarinets than in the previous six decades of my life. I'm amazed -- but not surprised -- by how much I don't know about them. And while there's a certain amount of pleasure to be derived in knowing what a
plateau clarinet
is, or in admiring a
handmade mouthpiece
made in Tuscany from Italian crystal, the fact that I'm re-learning how to make music is where something very close to joy comes from.
If you're a musician of any caliber whatsoever, on any kind of instrument, whether it's a harp, or guitar, or harmonica, or washboard, or your voice, or a
Sound of Harmony Concert Grand piano
made by Steinway & Sons...my advice to you, humbly given, is simple: play on.