Just playing around with some new software. Well, it's not actually new new; it's an upgrade from a version I bought in 2005, back when they were coding applications (the word "apps" had not yet been invented, even as it applied to chips and salsa at Chili's) with hammer and chisel. I had a powerful hankerin' to make a comic strip, and that's when I discovered that the program would no longer run on my computer, which itself was birthed during the Dark Ages when "IOS" was just the airport code for Ilhéus/Bahia-Jorge Amado Airport in Brazil.
There's a vaguely interesting story behind the comic. As Debbie and I walked across the Bay West bridge, the Egyptian gander (first introduced in these pages
here
) flew in front of us and landed beside its mate and gosling. Much conversational honking ensued between the couple, with the youngster looking like it wanted to be anywhere but there.
Pretty sure I've correctly translated the Masri - which we all know is the conversational language of Egyptian geese - dialogue into English.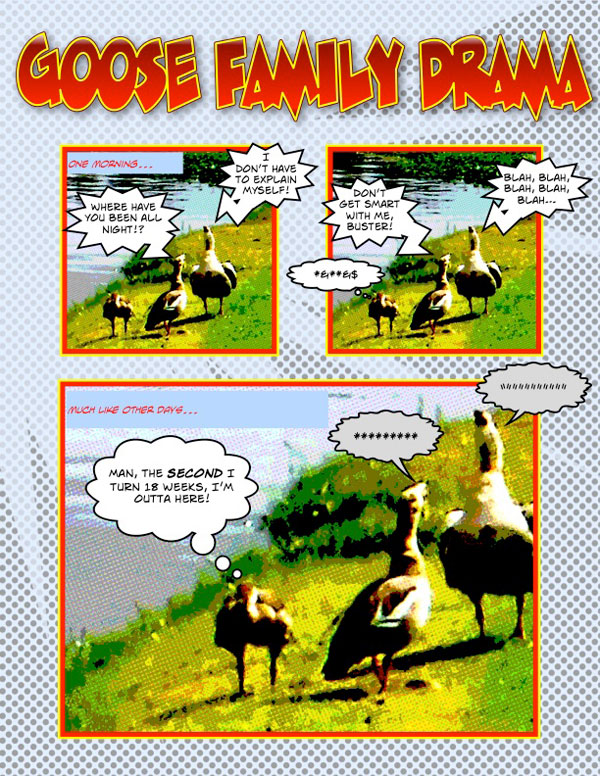 It's only fair to warn you that you'll probably be seeing more of these lame attempts at cartooning in the future. I have to justify the $14.99 upgrade fee somehow.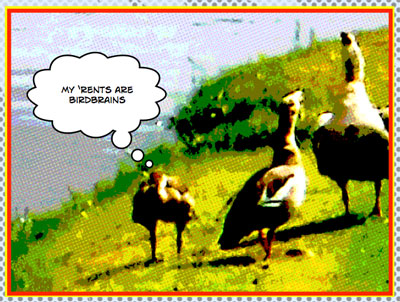 Actually, this isn't my first foray into the world of comics. Back in the day when I occasionally posted items of political relevance (back when we all hated each other slightly less for having differences of opinion), I poked fun at a couple of situations via a cartoon. See if you remember the relevance of this one: