I was on our front walkway this morning and noticed what I thought was a really skinny earthworm inching its way across the pavers. Upon closer inspection, I decided it wasn't an earthworm but I had no clue as to what it was. Its distinguishing feature was a flat, paddle-like head with what appeared to be eyes. I know we have
worm snakes
in this area, although I've never seen one. This didn't
look
like a snake, but, again, my experience with them is non-existent.
I decided to gently nudge its tail to see its reaction...and to my surprise, it stuck to my finger. I was so shocked that I flung it across the yard where it disappeared in the grass, thereby ensuring I would not be able to identify it.
However, as I continued to inspect the walkway I found several others. I took some photos, then googled "long slender worms with flat heads" and was able to quickly identify the creature as a land planarian, most likely a
Bipalium kewense
-- and also referred to as a hammerhead flatworm -- which,
according to the Texas A&M AgriLife Extension website
, is the most frequently found flatworm species in Texas.
They're not pretty critters.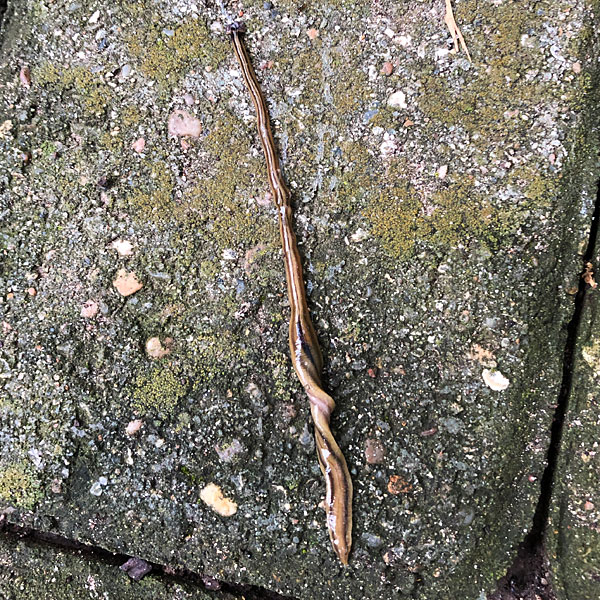 They also don't behave in a civilized manner, at least from my perspective, as they prey on earthworms, and not in a delicate fashion: they essentially grab the worm via the sticky mucus that coats their body and begin to digest the living worm. In fairness, they also prey on slugs, so they have at least one redeeming quality.
Land planarians are not native to the US, having arrived here in some fashion from Southeast Asia many years ago.
Here's a better look at the head, and some interesting (also gross) facts about its anatomy via
this website
:
The head is usually shaped like a half-moon or arrowhead. There may even be eyespots present but the land planarian does not have actual eyes. Its mouth is located mid-way down the body (on its lower or ventral side) and its mouth also serves as its anus.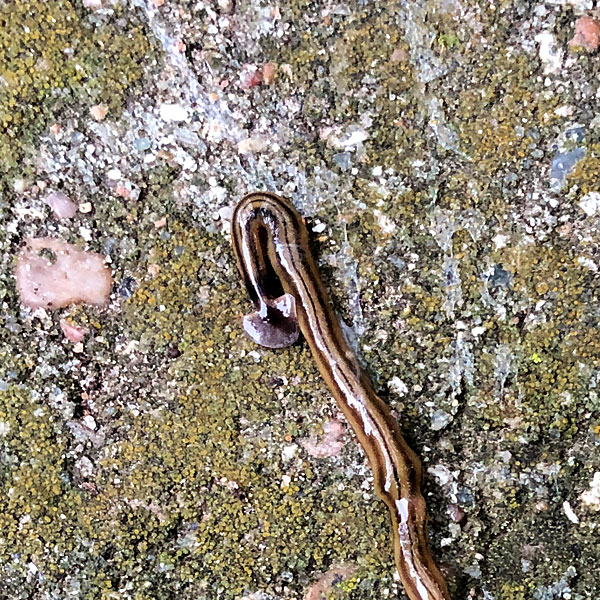 We don't have a slug problem around here, and we do have a lot of beneficial earthworms, so destruction of the flatworms is a net benefit. However, they are apparently hard to kill. You can chop them up, but the pieces will each regenerate into a new worm. (Flatworms in general are like that, you know.) The recommended method of sending them across the Worm Rainbow Bridge is to spray them with orange oil; furniture polish will suffice.
We did find one source that recommended dropping them into hot water to instantly kill them. I tried that approach, and the flatworm contracted to a fraction of its original size. The photo below is a closeup on the head of the dead flatworm, which I think is lying on its back. I'm guessing that the white splotch further down is that dual-purpose orifice mentioned above.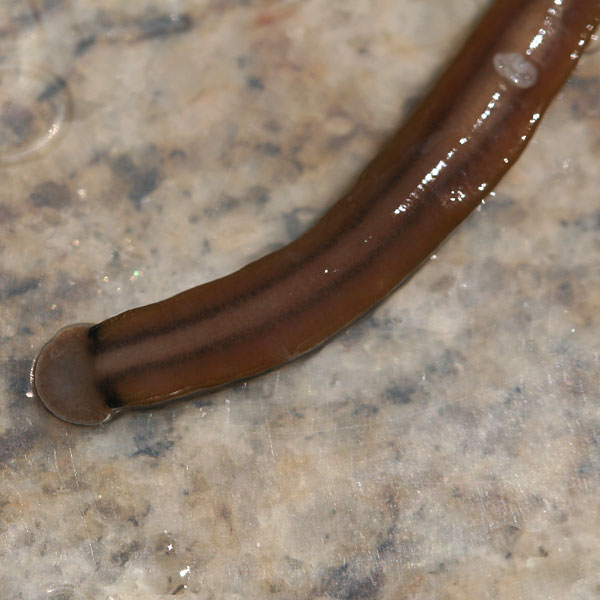 Neither Debbie nor I have ever seen one of these creatures before -- and we're both quite interested in and observant of our natural surroundings -- and so we wondered why they were now appearing in semi-abundance. The recent heavy rainfall might have brought them out of hiding, but more likely they emerged from something we did ourselves.
Yesterday, we (and by "we" I mean Debbie) put down 400 pounds of "Texas Native Enriched Top Soil" in our courtyard which is mere feet away from where the flatworms appeared. We had purchased the topsoil earlier in the day from Home Depot. This is a suspicious "coincidence." The company that manufacturers (can you manufacture dirt?) is based in Cedar Park, TX, about an hour away, but there's no indication on the bag where the soil originates from. Anyway, be advised of the possibility that you might be getting more than just top soil. One of the previously linked websites suggests heat sterilizing any soil brought in from outside, but that is not exactly an elegant solution.
We disposed of four or five more flatworms, and no more appeared so we hope we nipped the invasion in the bud. And we now know more about flatworms than we ever hoped to.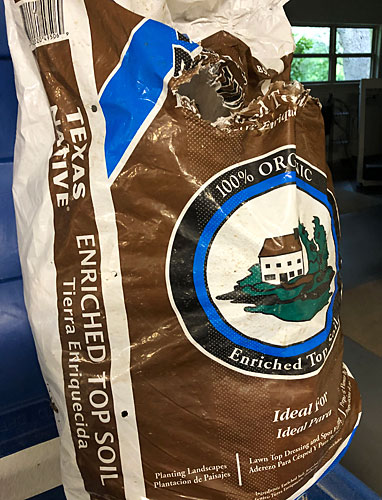 This is a bag that the topsoil was packaged in.