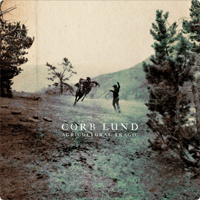 I was going to post a varmint trapping update today but then I realized that
Corb Lund
's latest album just dropped and the critter count
cuento
will just have to wait.
You have to be a long-time Gazette reader (I doubt there are many of you, but if you qualify -- bless your heart!) to know that I've been a Corb fan for at least a decade. I won't rehash my fanboi proclivities (if you must know more,
here's a place to start
); suffice it to say that I think he's one of the premier songwriters working today in any genre.
Agricultural Tragic
(the cognoscenti will know it as AgTrag) breaks little new ground, melodically. Corb's style is pretty unmistakeable. That's not a knock; his melodies stand up to repeated listening, and the lyrics range from delightfully silly to sophisticatedly poetic. He takes his time when crafting songs, and they all exude personal authenticity (for more about his creative process, and about this album in particular,
check out this podcast
).
I have absolutely zero bona fides as a serious music critic, so I won't attempt to review the record in detail. But here are my one-line summaries of each AgTrag track:
90 Seconds of Your Time - An attempt to dissuade an Army Ranger from hunting down a horse thief


Old Men - An ode to experience


I Think You Oughta Try Whiskey - An "old-style" duet with Jaida Dreyer; more about this below


Raining Horses - A tale of fecundity, but too much is never enough


Oklahomans! - Garth would be proud


Grizzly Bear Blues - Don't wait until you meet up with one to decide what you'll do


Dance With Your Spurs On - Life is short, so...you know...


Louis L'amour - A paean to days past, an elegy for today's tragedies, in three-quarter time


Never Not Had Horses - A tribute to his cowgirl mom, a rancher and horsewoman from day one


Ranchin', Ridin', Romance (Two Outta Three Ain't Bad) - Chris LeDoux (RIP) would be proud


Rat Patrol - Who you gonna get to get 'em under control? Las ratas rockabilly


Tattoos Blues - We don't judge, but spelling can be pretty criticle
I'm hard-pressed to pick a favorite song on this album, although
Grizzly Bear Blues
is dangerously earwormish. But I do want to call special attention to
I Think You Oughta Try Whiskey
. I feel a kind of personal connection with this song, for no other reason than Debbie and I got to hear it performed live last November at the
Coupland Dance Hall
.
Jaida Dreyer
opened for Corb and his band (the Hurtin' Albertans), and then joined Corb for
Whiskey
. We had no idea at the time that it would make its way onto his next record.
Corb kinda likes it, as today's tweet announcing AgTrag focuses on it:
Today's the day. My new album "Agricultural Tragic" is available everywhere. While you're listening, I wanted to point out one song in particular - "I Think You Oughta Try Whiskey", an old school country duet featuring my good pal @jaidadreyer. Listen: https://t.co/falCRCPBrr pic.twitter.com/tBbtTHV2FQ

-- corblund (@CorbLund) June 26, 2020
"Old school country duet" hits the bullseye. It's a throwback to some great "love you/hate you/can't live with you/can't live without you" songs. A couple that come immediately to my mind are
You're the Reason Our Kids Are Ugly
(Loretta Lynn and Conway Twitty) and
In Spite of Ourselves
(Iris DeMent and John Prine).
Here's an acoustic version of Whiskey, via YouTube.
Whether you're a country music fan or not, if you get a chance to go to a Corb Lund show, do it. His band is tight, and they put on a great performance. Regardless, I recommend checking out his stuff wherever fine music is downloaded/streamed/vended.
Since I mentioned them, I'll save you the trouble of looking them up for comparison. (Note: John Prine's lyrics can skew a bit to the randy side. But also hilarious.)