Yeah, two music-related posts in a row. It just sometimes works out that way, but not to worry; we'll return to our usual mindless drivel pretty soon.
If you visit the apparel page on the e-commerce section of Sturgill Simpson's website and scroll down a ways, you'll see a t-shirt with the question "Who The **** Is Sturgill Simpson?" emblazoned across the chest. Of course, there are actual letters in place of the asterisks, but this is a family blog, sort of, so you'll have to use your imagination.
The message on the t-shirt may be crude, but it's actually a pretty insightful question from the perspective of how Simpson's musical focus changes dramatically from album to album.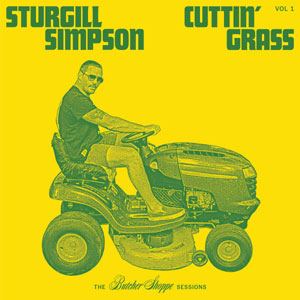 His 2016 album,
A Sailor's Guide to Earth
, earned him a Grammy for Best Country Album (even though cynics would argue the only thing country-sounding on the record is his vocal twang).
Sound and Fury
is a 2021 Grammy nominee for Best Rock Album. And don't be shocked if
Cuttin' Grass, Vol. 1 (The Butcher Shoppe Sessions)
, released digitally in October but just now available in vinyl or CD, doesn't show up in 2022 as a Grammy nominee for Best Bluegrass Album.
Sturgill Simpson grew up in Kentucky and was exposed to bluegrass music at an early age. However, he professes to having been more interested in rock and pop.
Many years later, after returning home to Kentucky from the military and living for some time out on the West coast, I was driving down the road one day and the public radio station played an old Monroe Brothers song and it absolutely floored me. A wave of emotion slammed me in the chest and I had to pull over on the side of the road. I was pretty much drifting at the time--completely lost, I guess you could say--and hearing that music brought everything to the surface.

It sounded like home. Bluegrass music is healing. I truly believe this to be true. It is made from ancient, organic tones and, as with most all forms of music, the vibrations and the pulse can be extremely therapeutic.
So, years later, having explored/experimented with different genres of music -- from metal, to psychedelic, to country -- he decided to try his hand at bluegrass. He surrounded himself with some of the most accomplished musicians in the genre, partnered with his favorite engineer/producer, and in three days recorded Cuttin' Grass.
The special genius of this collection is that each song was previously recorded by Simpson, but not in a bluegrass arrangement. Again,
from Sturgill
:
I typically go into the studio with most of the album written in my head and end up throwing half the songs away and writing the rest during the process once the album reveals itself for what it wants to be. But with this record, I just went though my back catalogue and listed which songs I thought would work best and surrounded myself with musical wizards, so at most there might have been some second takes...but not many. Once they learned the form, we just went in and hit record. Ferg [engineer David Ferguson] and I told everyone, "What you play off the floor is what it's going to be--we're not punching in solos or overdubbing anything, it's just going to be totally raw and live." Due to modern recording technology and the endless choices it brings, even modern bluegrass recordings have suffered from the soul-sucking pursuit of perfection. Merle Haggard once told me that "perfect is about the most boring thing on Earth." When it comes to music, he was dead on. As a result it was the fastest recording I've ever made.

Adapting the songs was pretty easy; even a few of the tunes that I thought might be a little weird worked very easily. Some of the more esoteric psycho-babble songs, like the song "Just Let Go," we got in the first take. It was just extremely easy, fun, everybody was laughing the whole time. Mostly, I was just humbled and amazed to be in the room with all these musicians. You can't overstate all their talents--truly next-level freak show kind of stuff.

Now, there are a ton of examples of where someone has taken a song from one genre and rearranged it to sound like bluegrass. For example, I have in my iTunes collection a bluegrass version of Wipeout, and another of Run DMC's Walk This Way. They're fun arrangements, and the musicianship is fairly impressive...but they're still gimmicks. The songs on Cuttin' Grass, in contrast, are the real deal, starting with the quality of the lyrics. Sturgill Simpson is a gifted songwriter, and the arrangements complement the lyrics in an easy and natural way.
Still, I find it fascinating how the musicians on this record were able to transform the songs from their original genres. It's almost as if Simpson unconsciously realized that they were bluegrass from the get-go, just biding their time to reveal their true characters.
I've taken the liberty of editing snippets from a couple of songs so you can compare the original arrangements to the new bluegrass versions. Both of the songs are from the previously mentioned Grammy-winning A Sailor's Guide to Earth, the inspiration for which came from the birth of Sturgill's son. Each sample has a short segment from the original arrangement, followed by three seconds of silence, then the same lyrical segment from the new album.
The first sample is taken from a song entitled Breakers Roar. As you'll hear, the original arrangement is a lush, almost melancholy production. The new version is more stripped down, but no less heartfelt. [mp3; length - 1:50]
The second example, All Around You, contrasts a slow, horns-heavy bluesy original with an upbeat mandolin-forward version. [mp3; length - 1:03]
I confess that I'm not sure I know anyone personally who is a big fan of bluegrass music, and I further admit that I came to the genre only within the last few years myself. But the more overproduced and lyrically shallow songs I hear coming from Nashville, the more I'm drawn to the simplicity and honesty of the kind of music I hear on this record. You should give it a try; you might surprise yourself.