By now, unless you live in a non-wifi-enabled cave or have the good sense not to own a TV or computer, you've heard about
Bird Box
, the Netflix movie starring an up-and-coming starlet named Sondra Bullard, or something like that.
MLB and I streamed it a couple of days ago and found it to be, in a word, meh. [Ed. That's a highly technical film review term that calls for judicious usage.] The plot (uh, spoilage lies ahead, or, perhaps, spoiled lying) can be summarized thusly: unknown entities that are extremely powerful but can't work doorknobs make you go ice-cream-deprived-level insane unless you wear a blindfold so that you can't see their hideous visages although we're just guessing at that since we never see said visages, and a bad-tempered lady recreates scenes from The River Wild to save her birds. Which are in a box. Which should go without saying.
However, in humanity's desperate quest to validate Darwin, the upshot of all of this is that many of us are now wearing blindfolds, presumably in order to avoid soul-stealing demons, but probably just to keep from watching CNN or Fox. Regardless, Netflix itself has -- at the behest of its legal team of soul-stealing demons -- tweeted a timely and heart-felt call for sanity:
Can't believe I have to say this, but: PLEASE DO NOT HURT YOURSELVES WITH THIS BIRD BOX CHALLENGE. We don't know how this started, and we appreciate the love, but Boy and Girl have just one wish for 2019 and it is that you not end up in the hospital due to memes.

-- Netflix US (@netflix) January 2, 2019
This warning has, of course, yielded its desired results, immediately tripling the number of people who are undertaking the so-called Bird Box Challenge (and, only coincidentally, watching the movie).
You can guess what's coming next, right?
I'm not going to do anything as crazy as driving a car while wearing a blindfold, or juggling chainsaws while wearing a blindfold, or putting on my socks while wearing a blindfold, but what I AM willing to try is blogging while wearing a blindfold.
Here I am at my computer, getting ready to undertake this Important Sociological Experiment: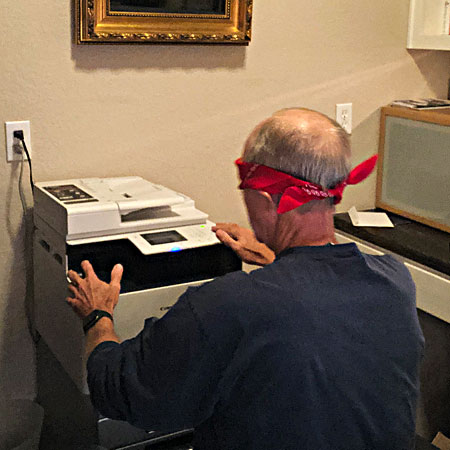 The remainers of withisposst wilkll be donne blidflolded sthaat yoou ca can see ithat theefres's wreallhy no dnsdanger in tryihtngng this so go aheed and ghet in yhour carr...